Good morning: a rare spot of good economic news for the Obama administration is the highlight of the day, while Republican presidential candidate Herman Cain struggles with the latest allegations in a series of duelling television interviews.
Coinciding with the fall in the US unemployment rate to 8.6% – the lowest rate since early 2009 – President Obama appears with former president Bill Clinton to showcase a $4bn plan to upgrade buildings for energy efficiency, in an effort to improve the administration's green credentials and give a boost to the construction sector.
In Congress, a fight continues over extending the payroll tax cut, as Republicans and Democrats voted down their respective plans in the Senate – with a significant number of Senate Republicans crossing the floor to vote down their own proposal.
11.30am: Bill Clinton is speaking now to introduce President Obama and explaining his role in promoting the $4bn energy efficiency conversion plan – the event is taking place in a renovated office block next to Farragut Park in downtown DC.
Clinton is his usual fluent self talking about the benefits of the proposal. "It's the nearest thing we've got to a free lunch in a tough economy," says the former president.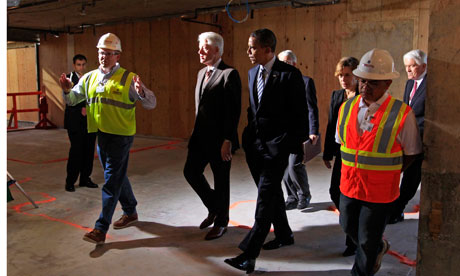 President Obama and Bill Clinton tour an energy-efficient office building renovation in Washington Photograph: Kevin Lamarque/Reuters


11.44am: President Obama is up now, touting the package that has just been announced and taking the opportunity to push the latest jobs figure showing a 100,000 increase in private sector employment:
This morning, we learned that our economy added another 140,000 private sector jobs in November. The unemployment rate went down and despite some strong headwinds this year, the American economy has now created in the private sector, jobs for the past 21 months in a row. That's nearly three million new jobs in all and more than half a million over the last four months. So we need to keep that growth going. Right now that means Congress needs to extend the payroll tax cut for working Americans for another year.

Congress needs to renew unemployment insurance for Americans who are still out there pounding the pavement, looking for work. Failure to take either of these steps would be a significant blow to our economy. It will take money out of the pockets of Americans who are most likely to spend it and it would harm small businesses that depend on the spending. It would be a bad idea. I think its worth noting, but the way, I notice that some folks on the other side have been quoting President Clinton about, "it's a bad idea to raise taxes during tough economic times", that's precisely why I've sought to extend the payroll tax this year and next year.
Obama changes tack and moves on to the legislation before Congress, which saw a battle over the payroll tax holiday take place last night. Obama wants Congress to pass the tax holiday, saying: "Now's not the time to slam on the brakes, it's time to step on the gas."
Then Obama threatens: "Otherwise Congress may not be leaving, and we can all spend Christmas here together."
That's not a prospect that anyone will be enthusiastic about.
12.04pm: More on the unemployment figures, which President Obama just now burnished as the 21st consecutive month of job growth, creating nearly three million jobs. The US economy added 120,000 jobs in November, the US Dep[artment of Labor said today, meaning the economy has generated 100,000 or more jobs for five months in a row – the first time that has happened since the good times of April 2006. On top of all that, revisions added a further 72,000 jobs to previous months' growth.
But the underlying picture is less bright. The unemployment rate shrank to 8.6% but that was because there were 315,000 fewer people active in the labour market.
Economist Dean Baker of the CEPR explains that fewer opportunities for women were behind the fall in the labour market participation rate:
The drop in participation was entirely among women and especially black women. (Among married women, employment rose by 194,000, so this was not a case of women as second earners dropping out of the labor force.) Participation numbers among white women fell by 199,000, a decline of 0.2 percentage points. The drop among black women was 164,000, a drop of 1.2 percentage points. These monthly numbers are highly erratic, and it is likely that at least part of this drop will be reversed in future months. Nonetheless there had been a trend of declining participation rates among both white and black women even prior to the November plunge. This suggests that there is a real issue of women losing access to jobs; although the December figures may show some reversal.
12.27pm: Speaking of keeping Congress back for Christmas, the next showdown over spending looms in the next two weeks when the last emergency funding bill runs out and the possibility of a government shotdown is back on the agenda.
The White House's budget director, Jacob Lew, has been telling journalists that Republicans are holding up the $900bn omnibus funding bill by insisting on tacking on legislation on abortion and the environment, as well as showing discomfort at the previous budget deal agreed in August.
12.40pm: Andy Kroll of Mother Jones magazine has sat down with a calculator and figured out that President Obama has averaged a fundraiser every five days so far this year, in preparation for "what's shaping up to be one of the most bruising, cash-drenched campaigns in history":
Obama is not on the money trail because he enjoys hotel ballrooms and posing for pictures with 1-percenters. The president's ramped-up fundraising efforts reflect the changing landscape of money in American politics, especially in the wake of the Supreme Court's Citizens United decision. Clinton and Bush II didn't have to worry about candidate-specific super-PACs and Karl Rove's shadowy Crossroads GPS outfit raising tens of millions of dollars to finance negative ads. And with the collapse of the presidential public financing system, which capped a candidate's spending, it's up to the candidates to rustle up as much private money as they can in the campaign arms race.
There's a very interesting comparison with the previous Clinton and Bush administrations: in the similar pre-election period, while Obama has held 69 fundraisers, Bush held 41 in 2003 and Clinton just 23 in 1995.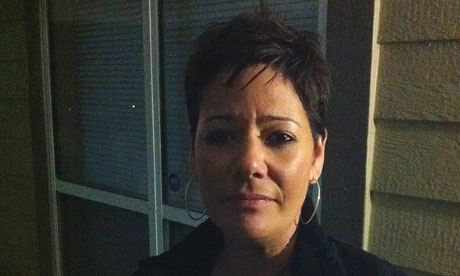 Ginger White poses for a photo in Georgia on Monday. Photograph: Greg Bluestein/AP


1pm: Republican presidential candidate Herman Cain is travelling back home to Atlanta today to meet his wife Gloria for the first time since Ginger White revealed their 13-year-long relationship.
Cain has hinted that he could drop out of the race – leading to fact-free speculation such as this piece in the Daily Beast, which waited until paragraph 16 before telling its readers:
Sources close to the campaign say Gloria Cain wants her husband to leave the race and has no desire to do additional interviews about their marriage or the constant accusations. They describe a woman angry that her life has been turned upside down by her husband's need for attention and power by any means.
Would that be "sources close to the campaign for attracting readers to the Daily Beast" perhaps? Anyway, the Cain campaign announced today that Gloria Cain would be taking a new role in the campaign and launching a new website, Women For Cain:
Gloria Cain is the National Chairperson for "Women for Cain" and is the very special woman who Mr Cain devoted his life to many years ago. Mr Cain and Gloria celebrated their 43rd wedding anniversary earlier this year. The couple has two children and three grandchildren and a legacy of family, friends, and community and church involvement.
1.19pm: The best part of the Women For Cain website is the messages of support for Cain posted by supporters (apparently). They really are a hoot – or terrifying, depending on your state of mind.
Angela Schudy of Nixa, Missouri writes:
You are a triple threat to the Left!! I believe these "women" are looking for money and attention and have been groomed by the "Demonacrats" to be a bunch of bad actress'. The Left is desperate and they are low enough to break the law and lie.
Karla Heidt of Queen City, Texas, writes:
I do not believe a single one of the "women" who have accused you. I believe you to be a God-fearing man who loves his wife and children. Don't let Satan and his demons win. Stay true to the Lord's will and stay in this race.
Catherine Harris of Knoxville, Tennessee, has some advice for Herman Cain:
I lived through a situation wherein some people I had known for 35+ years emailed me 100s of times, at all times of the day or night, and I emailed them back based upon the picture of the world they encouraged – even agreeing with me that I was right and the attacks on me were unjust. There were gifts exchanged, along with messages like "my affection knows no bounds", other terms of endearment based upon positive associations, dinners and other supports. Not only was the truth non-sexual where I was concerned, these people were trying to destroy me while covering up for a convicted child molester – in a community youth activity.
Gloria Gonzales of San Antonio, Texas:
Hello, Herman Cain, you need to focus about this America and don't even listen to all this women, that they don't have nothing good to say about you… they are money hungry… and women like this, Don't care or don't have no SHAME to go on TV…to use lies, for money…somebody has been paying this women. They make me sick to my stomach.
Cheryl Vaglienti of Georgetown, also in Texas:
Dear Mr Cain, I am a 66 year old female architect in the State of Texas, and want to simply say… as a REAL woman I do not believe for one second any of these "women" that have crawled out from under a rock somewhere to defame you and bring pain to you and your family. They are pitiful creatures at the very least, and evil at the most. Isn't it convenient that they have suddenly become offended by supposed advances by you now after all these years, my goodness, poor babies, how have they been able to bare up under the pain for all these oh so many years… LIARS, LIARS, LIARS…GO GET THEM HERMAN AND PLEASE DO NOT QUIT!!!!
1.39pm: Here's some breaking news: Herman Cain's campaign says Cain will make a "major announcement" in Georgia tomorrow.
So, is Cain dropping out or staying in? My guess is: staying in. You don't pre-announce a withdrawal a day in advance.
1.56pm: Herman Cain's "major announcement" looks more and more like it's to "announce" that he's staying in the race. The "announcement" is booked to happen in a park in Atlanta, not a place to end a campaign.
And he's also scheduled to open a campaign office in George tomorrow as well. So in conclusion: meh.
2.06pm: The root of Cain's latest problem is Ginger White, the woman claiming a 13-year-long relationship with Cain. Last night she appeared on MSNBC, where she was interviewed at length by Lawrence O'Donnell and talked of the payments she received from Cain over the years:
O'Donnell: Did he give you that money in cash?

White: Yes. He did.

O'Donnell: Always in cash?

White: Always in cash.

O'Donnell: And he said that he has given, he has helped other people this way. Has he, did he ever discuss with you helping other people in a similar way?

White: He never – and a similar way would be sleeping with a person and then helping them financially. That's how he was helping me, so I can't say that he ever said that, no.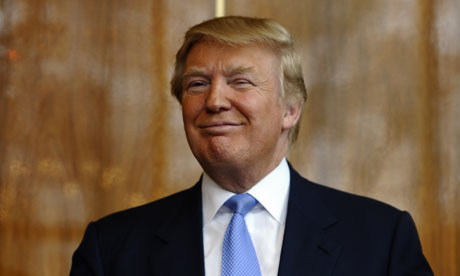 Meet your new Republican debate moderator: Donald Trump


2.14pm: So it has come to this: Donald Trump is to moderate a debate between the Republican presidential candidates in Des Moines, Iowa, on 27 December.
"It's officially a reality television Republican primary now," the New York Times drolly observed.
Future historians may date the death of the modern Republican party to 27 December 2011.
2.21pm: Herman Cain, speaking in South Carolina just now: "I am reassessing because of all this media firestorm stuff."
He mentions that he is making an announcement tomorrow but won't go into any further detail.
2.25pm: Fox News is saying there are "conflicting reports" about what the hell Herman Cain is going to say tomorrow, if anything.
Cain was just saying, live, that tomorrow in Atlanta he was going to make "an announcement" in relation to his candidacy. Other campaign members are saying that tomorrow's event is just a campaign office opening.
The Herman Cain campaign giving out confused, mixed messages? Surprise!
2.34pm: Real headline from the Los Angeles Times website:
Donald Trump tapped to moderate GOP debate (yes, really)
Yes, really. On the other hand, CNBC allowed Jim Cramer to moderate parts of its Republican debate and he's as much a clown as Trump, if not more so.
2.47pm: More good news for Newt Gingrich, now officially the Republican frontrunner, and polling well in the key state of Florida:
An American Research Group poll released Thursday indicates that 50% of likely Republican primary voters in Florida say that the former House speaker is their choice for their party's presidential nominee, with 19% supporting former Massachusetts Gov. Mitt Romney. Businessman and former Godfather's Pizza CEO Herman Cain is at 10%, with all other candidates in single digits and one in ten surveyed undecided.
Caveats: ARG polls aren't exactly the sharpest knives in the drawer, and it had a sample size of just 600, which is small. But on the other hand, two other polls from Florida last week gave Newt 40%+ poll ratings, so maybe it isn't that exceptional.
3.24pm: Hats off to Jon Huntsman, who has turned down his invitation to the Donald Trump debate on 27 December.
His spokesman Tim Miller replied on behalf of Huntsman:
Lol. We look forward to watching Mitt Newt suck up to The Donald with a big bowl of popcorn
That's the quote of the year.
Will others follow suit? It's interesting.
3.47pm: Regarding primary opinion polls, the LA Times's Mike Memoli reminds us that a CBS/New York Times poll in December 2007 found the following: Rudy Guiliani 22%, Mike Huckabee 21%, Mitt Romney 16%, John McCain 7%.
On that basis, Jon Huntsman, Ron Paul and Rick Perry should feel pretty good.
3.55pm: Meanwhile, Jon Huntsman has accepted an invitation to a Lincoln-Douglas-style debate – which means a really long one – with Newt Gingrich, to take place in Iowa sometime this month.
Mitt Romney, though, has turned down a similar debate with Newt:
There was just one problem. While Gingrich was ready to take his place on the stage, the Romney campaign politely declined in a series of mostly e-mail exchanges.
4.04pm: The Democratic National Committee has wasted no time in jumping on Mitt Romney's fortnight of bad news with this web-ad:
The quote "He physically comes across as if he was designed by East German scientists" is a bit low. So they used it twice.
4.14pm: Former Bush administration White House spokesman Ari Fleischer is not impressed with the prospect of a Donald Trump-moderated GOP debate:
Trump's idea 2 moderate a debate is absurd. I hope all GOP candidates turn him down. It's a campaign; not a TV show.
Maybe the rest of them will come to their senses and not accept, along with Jon Huntsman.
4.18pm: Sunday's New York Times magazine has a long and polished profile of Mitt Romney, which is worth reading at length:
Mitt Romney's campaign has decided upon a rather novel approach to winning the presidency. It has taken a smart and highly qualified but largely colorless candidate and made him exquisitely one-dimensional: All-Business Man, the world's most boring superhero.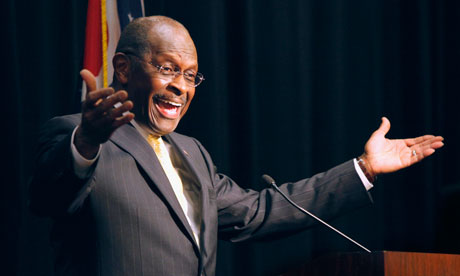 Herman Cain. Photograph: Tony Jones/AP


4.41pm: So what is Herman Cain doing tomorrow afternoon with his "major announcement"? There are reports that Cain plans to meet with some of his larger donors beforehand.
The obvious conclusion is that he may announce he is droppoing out of the race, and being Herman Cain he wants to go out in a blaze of publicity, hence the pre-announcement.
Alternatively, he may use it as a high-profile opportunity to reaffirm his candidacy. CBS News reports:
A senior adviser to the campaign tells CBS News and National Journal that Cain simply plans to announce the opening of a campaign office in Georgia.

But that seems to both contradict Cain's promises of an announcement to "clarify" his next steps and his timetable for making a decision. Cain will meet with his wife in person later today – for the first time since the affair charge surfaced – to help decide whether to press on with his campaign. He said Thursday night that he will make a decision by Monday.
In conclusion: who knows? Herman Cain's campaign has been idiosyncratic and erratic throughout its brief life. Anything is possible.
5.10pm: That's enough for today. So now there are two events tomorrow: Cain's announcement and, at 8pm ET, the latest and most credible poll from Iowa's Des Moines Register. So let's wait and see shall we? Good evening.